Stories of Hope & Recovery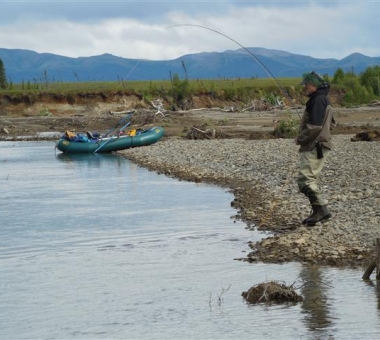 John McLaughlin
A Patient's Heart for Adventure: Procedure Helps Continue an Annual Tradition
If it weren't for the stent John McLaughlin received to open a blocked heart artery—known as the "widow maker"—he might have had to put his annual king salmon fishing trips to Alaska on hold, along with many other daily activities that can be difficult to perform when suffering the symptoms of heart disease.
When John, a lawyer from Danville, Pennsylvania, first started experiencing pain in his chest, he was in his late fifties. He was an outdoor enthusiast who exercised daily by running and hiking in the mountains, downhill skiing, and walking his dog. After he returned from his yearly fishing trip, he resumed his normal workout routine and noticed an unusual twinge in his chest while running uphill.
"It was a slight pain, nothing terrible and nothing I couldn't run through, and it did subside when I slowed down to a walk," said John.
John fought through the sporadic chest pain for about two months until it progressed. Looking back, he recalls mornings when he would wake to an unusual tingling sensation in his left arm.
"It's like the saying, 'out of sight, out of mind,'" said Dr. James Blankenship, John's interventional cardiologist. "It's not uncommon for heart disease patients to ignore their symptoms, especially if they are inconsistent, as in John's case."
After undergoing a stress test, Dr. Blankenship advised John to undergo a cardiac catheterization to determine the severity of his heart condition. John's father had undergone open-heart surgery, and he knew he didn't want the same for himself. As a busy lawyer with an active lifestyle, he didn't want to put his life on hold while he recovered from major surgery.
"During the cardiac catheterization, I found a significant blockage in the left anterior descending artery of John's heart," said Dr. Blankenship. "We chose to open the blockage restricting blood flow and keep it open with a stent. This was the best treatment option for John because it would relieve his symptoms and get him back to what he wanted to do—hiking, fishing, working—fast and with long-term effectiveness."
During the procedure, Dr. Blankenship accessed John's heart through an artery in his leg. Using a long, thin, flexible tube called a catheter, Dr. Blankenship carefully guided the stent through the catheter to the heart blockage. The stent was inserted to hold open the artery and restore blood flow.
John underwent the procedure on a Thursday and played racquetball the following Saturday. He could feel an immediate difference in his endurance and stamina. According to Dr. Blankenship, John's marked improvement in his quality of life following his procedure is a commonality shared among angioplasty patients. A recent survey released by the Society for Cardiovascular Angiography and Interventions (SCAI) found four out of five angioplasty patients said their lives changed for the better after their procedure, and half stated they were symptom-free.
"I can now do everything I did before, only better," said John. "I don't think twice about the fact that I have a stent. I still go on my annual fishing trip, often alone, in remote areas of the Alaskan wilderness, and I have complete confidence in my heart!"