Stories of Hope and Recovery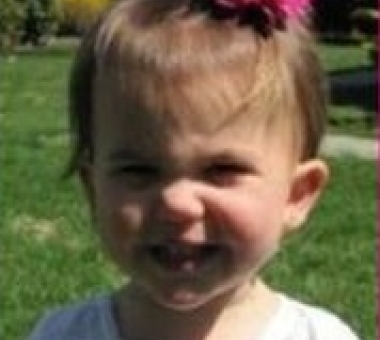 Harper O'Bomsawin
Toddler on the Run
Jill and Shawn O'Bomsawin welcomed their second baby, a seemingly happy and healthy little girl named Harper. Just nine days later, Harper was rushed to the hospital by ambulance while doctors waited to perform immediate surgery on her heart.
When Harper was three days old, her pediatrician discovered she had a heart murmur - a noise made by blood as it travels through the heart. Heart murmurs are common in newborns, but the pediatrician recommended that Harper see a pediatric cardiologist for a more extensive examination of her heart and to rule out anything serious.
When he examined Harper, the pediatric cardiologist could not feel pulses well in Harper's legs. A test called an echocardiogram uses sound waves to create a moving picture of the heart, revealing a coarctation of the aorta (CoA). In this condition, the arch of the aorta (the main vessel in the heart) is narrowed, limiting blood flow from the heart to the lower part of the body. If left untreated, CoA (Coarctation of the Aorta) causes the heart to overwork, leading to heart failure, possible kidney failure, and in some cases, death. Even though CoA is one of the most common congenital heart diseases identified in newborns, it is serious and, if left untreated, would have been life-threatening for Harper. Harper's heart function had already significantly declined due to the severity of the coarctation.
Surgery to widen the aorta is the standard treatment for CoA in infants. Before the family could even go home for a change of clothes, they were rushed by ambulance to Children's Healthcare of Atlanta at Egleston, where Harper's surgical team was waiting for her. The family was distraught, but their fears subsided when the surgeon reported the procedure was successful with no complications. Harper spent five days recovering in the hospital under the watchful eyes of her medical team, who ensured there were no post-operative complications.
The surgeon did warn the O'Bomsawins that while surgery successfully fixes CoA in most cases, there was a possibility Harper's aorta could begin to renarrow. She would need to undergo additional procedures. For the next couple of months, the O'Bomsawins continued life as normal, watching Harper thrive and grow like a typical baby.
Two months after Harper's surgery, a check-in with the pediatric cardiologist revealed scar tissue was building up in her aorta, causing it to re-narrow. Harper would need to undergo either repeat surgery or an angioplasty procedure using special catheters to widen the vessel.
While the O'Bomsawins were concerned about another procedure, their worry quickly subsided when they met with Dr. Dennis Kim, the pediatric cardiologist at Children's Healthcare of Atlanta, who would perform Harper's angioplasty. He was the cardiologist who saw Harper in the clinic before surgery. Dr. Kim explained to the family he would insert a small, thin tube called a catheter into the large artery in Harper's groin and thread the catheter to her narrowed vessel. Then, a balloon on the end of the catheter would be inflated to widen the vessel and allow blood to flow normally again. The procedure was successful, and Harper could go home from the hospital the following day.
Although the angioplasty was initially successful, five months later, Harper's vessel began to renarrow again, and she returned to the catheterization lab, where Dr. Kim performed a second angioplasty procedure. Like the first procedure, Harper's second angioplasty was successful, and she could go home the next day.
Today, Harper is a healthy and happy 22-month-old who loves chasing after her older sister Ava. She has not had a further recurrence of CoA. Harper likely will be able to do everything her friends and schoolmates will do, like play sports, dance, and run. Now Harper only has to visit a pediatric cardiologist once a year for a check-up and to ensure her heart and aorta are functioning correctly. There is a possibility that Harper's CoA might worsen as she gets older, and she will need to go back for another procedure. Still, for now, the O'Bomsawins live in the moment, thankful for their two beautiful daughters and for the technology that allows Harper to lead a healthy life.
Before the 1980s, surgery was the only available treatment option for the treatment of congenital heart conditions. Now, thanks to new innovations that have revolutionized the care of heart defects, many children have the option of being treated with less invasive procedures or with a combination of surgery and interventional procedures - where specially trained physicians use thin, flexible tubes called catheters to make repairs to the heart and blood vessels.